NOISES-ACTIONS-BEHAVIOURS-EMOTIONS
My mum won't use an adapted plastic cup
APPROVED DEFINITIONS
If you are using a ceramic cup whilst drinking with her, she is telling you that she doesn't want to be different.
Try using the same plastic cup and make adapted products normal.
What Is The Language of Dementia?
The journey of dementia will be different for every person because we are all individuals, all will have different life experiences, personalities and histories. With over 200 recognised types of dementia, people will be impacted dependant apon the type of dementia they have and each dementia will mean that their personal journey will be slightly different to people that have other forms of dementia.
However, it is now recognised that most people that have dementia will start to have challenges with communicating in the way they have throughout their lives. As people with dementia start to lose the capacity to verbally communicate, they will find new ways to communicate using
Emotions
Body language
Behaviours
Noises
Actions
These changes in communication are the start of a new language, the 'Language of Dementia'. This new language, that is also a universal language, is adopted in every care setting, in every country, around the world. This website is dedicated to translating this new language and giving these interpretations back to the world.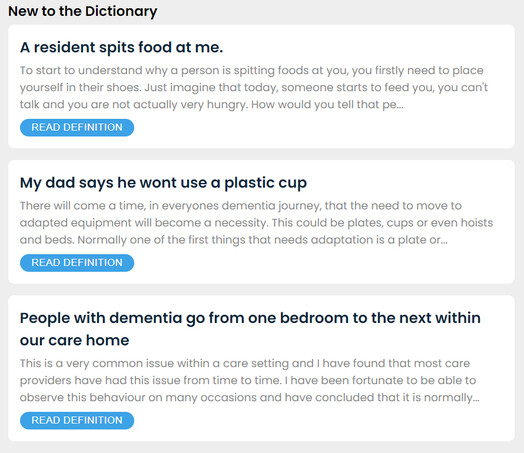 The Dictionary
A dictionary that is built on first hand experiences.
The content written within the Dementia Dictionary is driven by the thousands of Dementia Interpreters (see partners page) that are committed to translating the 'Language of Dementia'. We all have a need to stay connected to the amazing people that have dementia and through discussions, we can interpret the meaning and translate what and why the person is doing something and then transform into an understandable language.
Every person in every culture has a need to communicate and we do this every day without thinking and in most cases it will not be the words that we speak that will communicate how we feel. The clothes we wear, the home we live in, the car we drive, the food we eat and so much more communicates something about us. As human beings, we naturally interpret these forms of communications and unintentionally translate them and make assumptions about a person. But why is translating this language so important?
Doctors are basically interpreters; they interpret what the body is communicating and translate symptoms to direct them to which illness the person may have. Through these translations they can then prescribe the right medication or decide the next stages to make the person well again. Without having the ability to translate the symptoms, people would not live as healthy and long life as we do today. Over time, these interpretations have become clearer, and doctors now have the ability to translate what the body is telling them earlier and improve outcomes for the people they serve.
Translating the Language of Dementia is just as important, we need to stay connected longer with our loved ones and make the journey of dementia as inclusive as possible, interpretations will continually develop over time but one day we will have a full dictionary that will improve the lives for all.
Translations are published into the Dementia Dictionary for the good of everybody and you can access them freely on this website.
VISIT THE DICTIONARY
The Dementia Interpreters Forum
Driven by our Interpreter Forum
Discussing previous experiences from people that work with or live with people that have dementia ensures that translations are diverse, accurate, informed, and trustworthy.
Ask a Question for Interpretation

Our Goal
Imagine a world where no one spoke your language and you didn't speak theirs?
How would you tell them what you wanted, how could you explain that you have a need, want or simply show them what you are feeling?
People with dementia will start to form a new type of language using actions, behaviours, body language, noises or situations and this is called 'The Language of dementia'.
Our goal is to translate this new communication into an understandable language and reconnect people with dementia to the world.
DEMENTIA INTERPRETERS
Get Regular Access to Dementia Experts
& learn about your loved ones
Are you supporting someone with dementia and have questions that you would like advice about from skilled professionals? Would you like help to keep your loved ones at home as long as possible?
This subscription service is a forum that connects you to dementia interpreters across the globe. You can ask questions, get advice, learn about services in your area or just have reassurance. Cost: £6 per month via direct debit.
*Please note that we cannot answer anything medically about a person with dementia and you will be directed to a doctor for medication or medical advice*
This service is confidential and fully GDPR compliant
DOWNLOAD OUR APP
Dementia Dictionary App
Keep up-to-date on the go!
The Dementia Dictionary and Dementia Interpreter Forum are now available as an app. It is completely FREE to download and you login using the same details as you would to access the forum online. Whenever you add a translation, comment, or make changes to your profile it will show up on the website and if you make the changes on the website, they will show on the app.
You can now access the Dictionary on the go and get the answers you need quicker than ever before. Dementia Interpreters can now take part in forum discussions on a smartphone through the app.
If you need to ask a question for other interpreters to help you understand, then do so from your phone and get them finding answers quicker.
To download the app you can use the QR codes provided on simply click the buttons below to get the app on your iPhone or Android today!
This course made me realise what a dementia patient goes through, with impaired hearing and sight and the difficulties they must have when trying to communicate.
I will be more patient and understanding
Excellent practical's, very awareness raising and enhancing thought and sensory awareness itself understanding residents.
Trainer very engaging, welcoming and knowledgeable, great interaction with group. Time taken to reflect.
Dane View Care Home
I think it's a good experience, also new knowledge about understanding people with dementia needs and communication
Pembroke House
Good interactive training course, very informative.
I will have more patience and think of alternative ways to communicate more effectively.
WCBC
The course was valuable in increasing my awareness around caring for people with dementia.
I will pay more attention and give people more time
WCBC
Made me think about why people with dementia display certain types of behaviour.
I will look to take more time to understand reasons for persons behaviours
Wrexham County Borough Council
Excellent course, really enjoyed it.
I will respect residents a lot more and be more understanding of their situation
Dane View
Communication is the foundation for everything we do so it is only right that this is the focus for training.
The course reiterates the need to approach everyone as an individual, give them the time, space and respect they require to communicate effectively.
Essex County Council
Very eye opening!
Great amount of information and how to approach problems in the future to help persons with dementia.
I will use the information in my workplace and look out for different behaviours.
Homecare Matters
Very informative and the trainer was very engaging.
Thank you for today!!
This session has encouraged me to demonstrate more patience with customers and relatives with dementia.
Wrexham County Council