Abbeyfield
About Abbeyfield
For over 60 years, everyone is welcome at Abbeyfield. Wherever you find us, you'll find we're warm, open and friendly. Community is at the heart of Abbeyfield, where people come together to share meals, company, and enjoy life. Abbeyfield is more than a home, it's a neighbourhood, a community, a family.
Abbeyfield is a charity for older people providing housing across the UK and internationally. It is our mission to enhance the quality of life for older people through high quality accommodation in a stimulating environment to maintain a socially active life.
The Abbeyfield difference
Richard Carr-Gomm's vision and mission
"A scheme to bring lonely people together, in an ordinary house, in an ordinary street, getting support and creating an atmosphere of companionship from neighbours and family; returning to the community rather than moving away from it".
Richard Carr-Gomm
This was Richard Carr-Gomm's vision and mission when he started The Abbeyfield Society and continues to be the foundation for all the work we do to help alleviate loneliness; with our residents at the heart of everything we do.
Homely and friendly houses that have established great links within their community, making time for our residents, and enhancing their lives by bringing everyone together remain at the core of what we stand for today.
Our beginnings
Richard Carr-Gomm served in The Royal Berkshire Regiment and Coldstream Guards for 16 years before resigning and volunteering as Britain's first male home help. In his work, he found that the needs of people he was looking after were not material, but that they were often lonely.
Often the only person to visit them, he wanted to provide them with support and
security. Using part of his Army gratuity, he bought his first house in 1955, located in Bermondsey, East London and invited his first residents from the local community, Miss Saunders and Mr Halnan, to live with him.

Thanks to the positive response from the first house, he used the rest of his gratuity money to buy a second house and as word spread and Richard began to receive donations from the public, he bought more houses and formally set up The Abbeyfield Society in 1956.
By 1963, The Abbeyfield Society had over 100 homes across the UK with societies in eight London boroughs and 15 other cities throughout the country.
How Richard's legacy lives on
Today The Abbeyfield Society has over 400 houses in seven countries, including Australia, Belgium, Canada, Jersey, South Africa and New Zealand, providing a supportive community to over 7,500 residents. From Richard's kindness, generosity and goodwill, he has helped to change the lives of thousands of people.
Independent Living
Independent Living is designed for active, self-reliant individuals. It allows you to live completely self-sufficient with communal hubs to socialise and connect with your neighbours. At Abbeyfield we have a great selection of Independent Living apartments for older people across the UK.
These fully accessible homes have been designed taking into account your current and future needs. Choose from our modern one, two or three bed retirement apartments, all with secure entry, their own front door, fully fitted kitchen and wet room bathroom – as well as an on-call system for added peace of mind.
Apartments are available through a mix of options, whether you are looking to buy (for individual or shared ownership), rent or lease.
How you furnish your apartment is up to you, so you're free to put your own stamp on it. Most of our developments also welcome pets, making it a real home for all your loved ones.
Living together as part of a community is what makes Abbeyfield special. You can enjoy the shared communal areas such as the gardens, dining room, lounges and reception areas. There are often activities and events arranged by the residents and staff to choose from to make the most of your retirement.
A monthly service charge will cover the cost of maintenance of your apartment and the shared community areas. The only other additional costs are for utilities (water, electricity, internet) and council tax, plus any additional Extra Care services.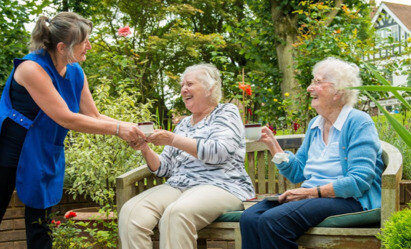 Supported Housing
Abbeyfield supported houses offer you your own space to enjoy later life combined with the peace of mind there's someone on hand to support you with daily activities.

Choosing to live in an Abbeyfield Supported House means you can maintain your independence in the comfort of your own room, with the opportunity to enjoy the company of others in communal areas of the house such as the dining room, lounge and gardens.

Our houses are typically converted houses in central residential areas, so you can stay well connected to the surrounding community.

Eating together is an important part of the Abbeyfield experience with delicious home cooked meals freshly prepared by our team every day for you to enjoy together.

Ultimately how to spend your time is entirely up to you, it is your home after all.

Help with daily activities such as cleaning and laundry can also be organised for you.
Residential Care Homes
We understand that peace of mind is important to you. That's why we take the time to ensure that's exactly what you get from our Residential Care Homes.
Our Residential Care Homes are designed for those with personal care needs requiring one-to-one support from a qualified carer. Live with the security of on-site staff who are there 24 hours a day to provide support and companionship.
Each of our homes offer you an active and varied activities programme where you can be part of a social community to keep you interested and entertained such as quizzes, day trips, gardening, arts and crafts, exercise classes, and much more.
There are comfortable shared social spaces such as lounges and quiet rooms, and peaceful gardens for you to enjoy with fellow residents or with visiting family and friends.
All your meals and dietary needs will be catered for, served in the dining room in the company of others or in your room if you choose to.
We offer not just a care home, but a care home with a team that truly cares.
Personalised care
Your move into an Abbeyfield home starts with an assessment of needs. We meet every resident and, where possible, their family before the resident moves in to define what level of care and service is most appropriate.
Safety and quality assurance
You can't enjoy peace of mind without trust. This is why our Residential Care Homes are registered and regulated and subject to continual internal monitoring and assessment, assuring the highest possible standards of care and accommodation.
Dementia Friendly Care Homes
Our Dementia Friendly Care Homes have been designed to help support residents living with Alzheimer's, dementia or other forms of memory loss. Our homes offer the same high quality support you'll find in our care homes with extra support for those living with dementia.
We understand that dementia affects each of our residents differently so we tailor our support to suit each person by finding out what they enjoy doing, or get pleasure from, we can ensure they're occupied, engaged and interested in activities that are meaningful and fulfilling.
It is through these personal connections between our staff and residents that help maintain relationships, identity and individuality so an enriched quality of life can be enjoyed.
Our staff are trained to value the individual's needs and preferences and care for them in a safe and secure environment.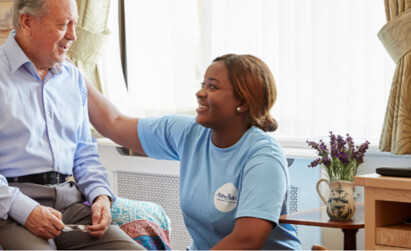 Care at Home
There's no place like home.
It's more than just a place to live, it's where your memories are, where you relax and feel safe.
Our Care at Home service can support you, so you can remain in the comfort of your own home and enjoy later life.
With more than 60 years of experience providing support to people in later life, we understand the importance of getting the right balance between care, support and remaining independent.